The 'Choiseul Snuffbox', which has always been in private hands, is an 18th-century French masterpiece and an invaluable personal and political record.
A miniature masterpiece
This object – seen by few but known by many – is far more than a simple snuffbox made of coloured gold. It is exceptional first of all for its size: 8 cm long, 6 cm wide and 2.5 cm high. Each of its glass-covered sides is fitted with an extraordinary miniature, painted in gouache on vellum by the talented French artist Louis-Nicolas van Blarenberghe (1716–1794).
Louis-Nicolas belonged to a family of artists from Lille, who distinguished themselves by depicting military campaigns before making their career in Paris and Versailles thanks to commissions from the court aristocracy. Admired for their extreme meticulousness and sense of observation, Louis-Nicolas and his son Henri-Joseph van Blarenberghe (1750–1826) painted numerous landscapes, views of châteaux, genre scenes inspired by the work of master painters, and vibrant, colourful, festive scenes full of figures, resembling theatre stages. Their clients often mounted these miniatures on snuffboxes.
In 1769, Louis XV honoured Louis-Nicolas with the title of 'painter of battles', and the snuffbox must have been made during his time as court painter. The miniatures – minutely detailed depictions of the Duc de Choiseul in his Parisian mansion, at the Louvre's Grande Galerie and in his apartments at Versailles – are unique pieces in the painter's abundant corpus of works.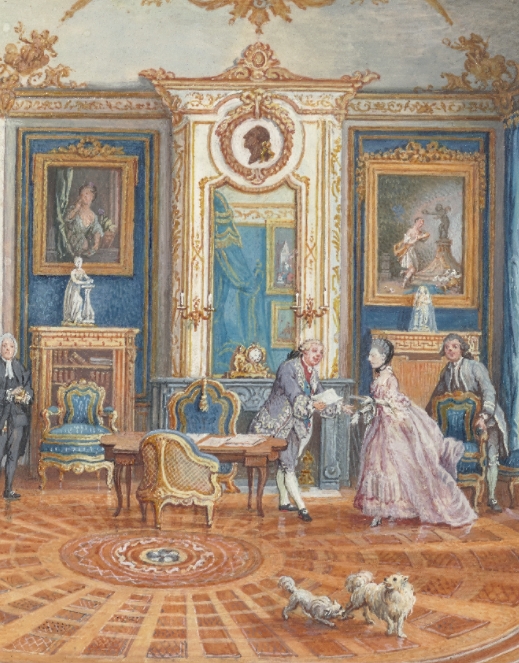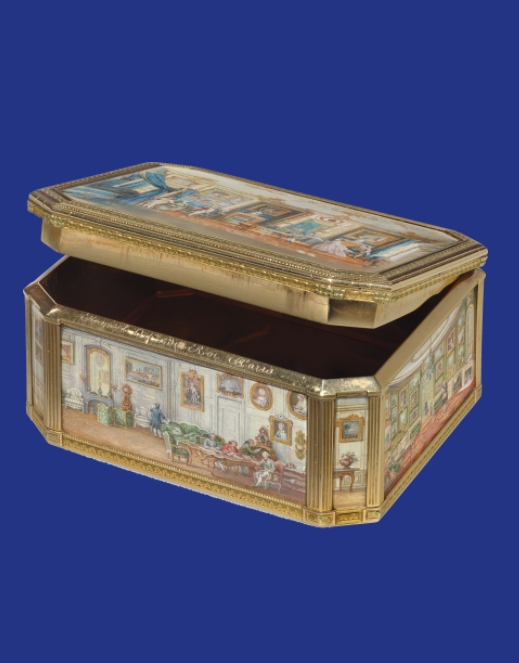 The Duc de Choiseul
Born into a noble lineage from Lorraine, Étienne-François de Choiseul (1719–1785) began a military career in the service of France, attaining the rank of maréchal de camp. Through the influence of Madame de Pompadour, he was appointed French ambassador to Rome (1753–1757), then to Vienna (1757–1758).
In 1750, when he married Louise-Honorine Crozat du Châtel, granddaughter of the financier Antoine Crozat, he was showered with wealth and good fortune. The couple took up residence in a huge mansion at the northernmost end of the Rue de Richelieu, built at the turn of the century for the famous collector Pierre Crozat. Choiseul, who had an absolute passion for painting, began to amass a vast collection: over 70 paintings can be seen in the miniatures on the six sides and canted corners of the Choiseul Snuffbox.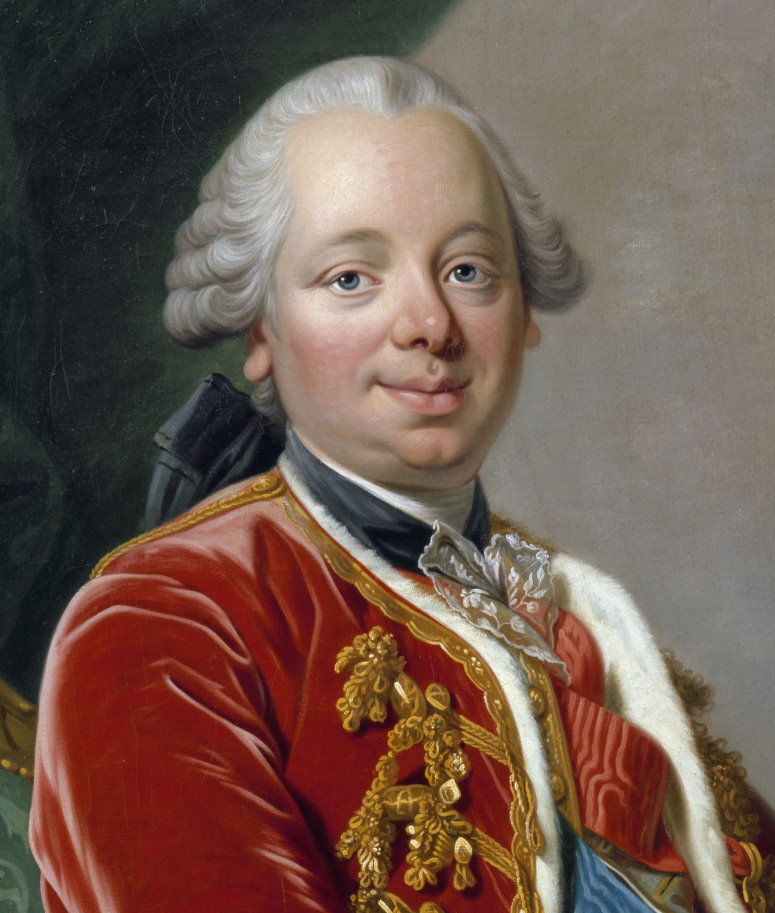 The diffident Louis XV lavished benefits on Choiseul – an intelligent, pleasure-loving diplomat who was as bold as he was arrogant – and in 1756, awarded him the blue ribbon of the Order of the Holy Spirit. In 1758, Choiseul joined the government, and for the next twelve years he occupied several posts – Minister of State, Secretary of State for Foreign Affairs, War and the Navy – until his sudden fall from grace on 24 December 1770.
Choiseul was immediately banished to his estate at Chanteloup, where he remained until Louis XV's death. The Parisian mansion was emptied of its furniture, divided into plots and sold. Choiseul's painting collection was dispersed at a famous auction held in 1772, at which his friends overbid to show him their support. Choiseul was deep in debt when he died in 1785, in a splendid mansion on Rue de la Grange-Batelière.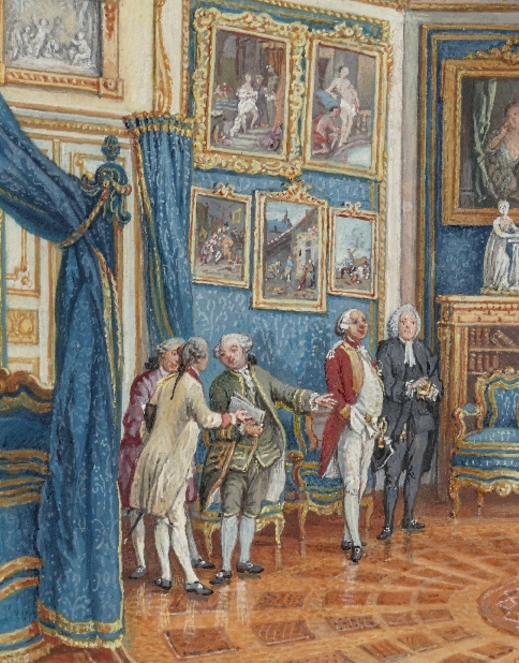 A mysterious commission
Part of the fascination of the Choiseul Snuffbox is the fact that it shows the famous minister at the height of his career, just before his fall. The rooms in which he is depicted would soon be demolished, his collection of paintings would be dispersed… an entire world would disappear forever.
The snuffbox, made between July 1770 and July 1771, is stamped with the marks of the king's favoured goldsmith Louis Roucel, whose services were often used by Choiseul and his friends. We do not know the circumstances in which it was commissioned from Louis-Nicolas van Blarenberghe. The minister's connections with the Van Blarenberghe family had already been illustrated by a superb snuffbox mounted with miniatures of the magnificent gardens at Chanteloup, painted in 1767 (Metropolitan Museum of Art, New York).
Was the Choiseul Snuffbox commissioned by the minister himself, or by a member of his entourage? The question is crucial to our understanding and interpretation of how the scenes were chosen and arranged. Thanks to the precision of the miniatures, some of the forty or so figures have been identified: Choiseul for certain, and also perhaps his sister – the stately Duchesse de Gramont – and some of his friends.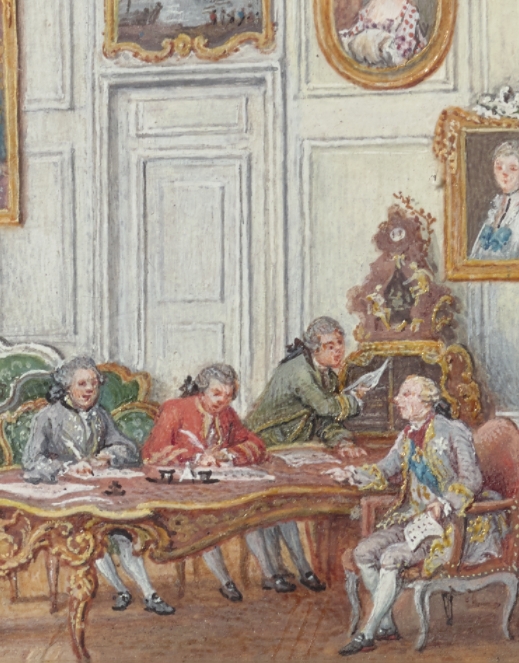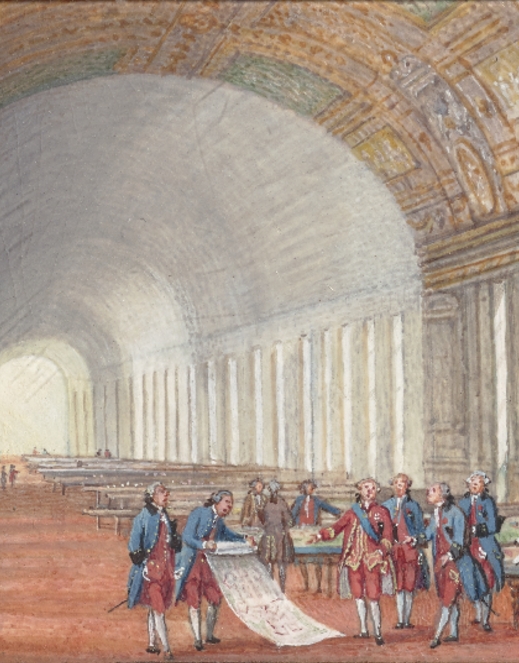 Thank you to all those
who made a donation!
The Louvre counted on the generosity of all to raise €1,200,000 before 28 February 2023. The goal has now been achieved and the Choiseul Snuffbox will enter the museum's collections. Many thanks to all those who made a donation!